D-Base
23.11.1996
Voted Underground Party of the Year 1996 by FRI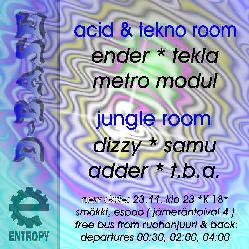 Yet another in a series of Smökki-parties, D Base again broke all records. This time, we had two main rooms in addition to the everpresent chillout, one side acid & techno house, the other jungle and drum'n'bass.
The acid room was set up in the Aquarium, with a minimalistic but functional setup of strobes and smoke that mirrored the music played there. Starring were DJs Ender, Tekla and Wax Remover, with a special live performance by Metro Modul. The jungle room was a complete contrast to the acid side: instead of smoke and strobes, the emphasis was on lighting, with plasma dripping off every wall and psychedelic spirals swirling everywhere. An immense sheet of transparent plastic was suspended from the roof above the dance floor, providing a magnificent reflecting ceiling for the effects. The night's musical entertainment was supplied by Dizzy, Samu, Adder and others.
Finally, the chill-out was set up as a lush jungle of greenery, lit by UV and a solitary effect weaving a spiral of light above the room. Despite a forced date change only 2 weeks before the party, over 300 people showed up, in part carted by buses from the center. And the crowd went wild, with the wonderful music along with little touches - like free food and drink and meter-wide spinning smileys on the wall - creating an immense vibe, just the way a rave should be.
And up next... something entirely different.