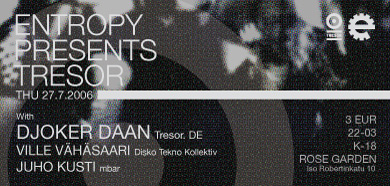 Entropy presents: Tresor
Venue:: Rose Garden, Iso Roobertinkatu 10, Helsinki
Date:: Thursday 27.7.2006
Time:: 22-03
Tickets:: 3e

Djoker Daan (Tresor, DE)
Ville Vähäsaari (Disko Tekno Kollektiv)
Juho Kusti (mbar)


Djoker Daan (Tresor, Bpitch Control, De)
Around 1888/89 Djoker Daan (aka Daan, aka Byks Off, aka Cut Off) made his first contacts with electronic music but it took three years for him to go deeper with it and form his own specific musical taste. This developed into a very delicate mixture of funky House and intelligent Techno. In 1991 he started to buy records and make recorded mixes for his friends. When he finally performed in front of an audience for the first time in the summer of 1993, he had already built his skill up to professi onal levels. He started to play at locally well-known parties and clubs like Public Sound Salad at Pfefferberg and the legendary Subversiv which was illegal at the time. Later he regularly played at Café Zona Luz with his friend DJ Tom Clark who is now the owner and producer of Goldplate Music.
In 1994 he started his residency at Snax Club Berlin / Amsterdam which is one of the most famous gay events on earth. Then in 1995 he took a big career step with gigs in South American countries like Costa Rica (San José) and Mexico (Veracruz) as well as his residency at Tresor (Berlin). 1996 was a breakthrough year for Djoker Daan, not only in Berlin but nationwide. He began to play in Berlins famous club E-Werk for example, which closed in 1997 but brought him much further ahead as it was known worldwide. Also the Snax club in Amsterdam began to book his second project Byks Off where he appeared as an ambient DJ presenting relaxed and more experimental sound collages.
Together with friend DJ Housemeister he started, in 1997, the series of Who the fuck is Murphy parties in Matrix and then later in Discount club. In the meantime he continues touring through countries such as the UK, Poland, Denmark and Holland. Daans sets are very innovative and never the same and although there have been so many different trends and good / bad times during the years he has been in the business, he has consistently maintained his specific style which is always recognizable once youve heard it.
His first live project "Cut Off" has had very good feed backs within the audience and was the last step to the career as a producer. In co-operation with SASCHA FUNKE who released on Kompakt (Cologne), he developed the project "D O P P E L P A S S". The results of their work are pressed on vinyl -> BPITCH CONTROL Rec. No. 011 was followed by further releases on Sommersafari Rec. for instance.
Ville Vähäsaari (Disko Tekno Kollektiv)
Merging from the city of Vaasa on the west coast of Finland, Ville Vähäsaari began his DJ career in 2004 after being involved in electronic music scene for years. With roots in harder electro and techno, his style developed into more varied and calm direction over the time. Nowadays his sets consist of wide range of minimal techno and tech house, with a touch of raw and funky grooves to tear the roof off and some deeper house to hold the mood.
After starting as a DJ, Ville's style quickly gained recognition around fellow DJs, promoters and event organizers, maybe due to the perfectionist and ambitious attitude towards deejaying. During his time behind the decks, Ville has played around Finland from the legendary X-Rust underground parties in Turku to classy venues such as Rose Garden and Mbar in Helsinki. In Vaasa he has been organizing numerous events, and has a residency in the local club Superstereo.
In 2005 Ville joined up with friends and colleques to form Disko Tekno Kollektiv, a loose coalition of DJs, producers and party organizers.
J. Kusti (Bassoradio)
J.Kusti`s dj career began in late 2001 when he got the chance to practice his djing skills playing records every sunday at a local bar, Mbar, in Helsinki. It was the only way to develop his technical skills since he didn´t have any turntables of his own and after a while he started getting recognition from local djs who then started booking J.Kusti for gigs at local bars and clubs to play quality music for the dancefloors. After a year or so he was then offered a residency at Mbar and he took over Mbar´s bookings and musical direction.

His musical style began to slowly shift from chilled out house to more deep er and techier sounds as he took inspiration from his dj-collegues and foreign underground superstars. Today J.Kusti`s sound can be described as deep and techy combining Berlin and Detroit sounds with a minimal twist.

As well as having a residency at Mbar and playing across town, he also hosts a bi-weekly radioshow on Sundays at Bassoradio 102.4Mhz in Helsinki.