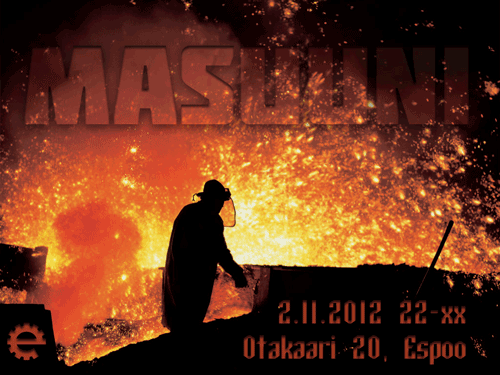 Released: 25.10.2012, 19:00
Masuuni ~
2.11.2012, 22:00
Location of blast furnace: OK20
Reduction time: Friday 2.11.2012 10 p.m.–xx
Reaction: Fe2O3 + 3 CO → 2 Fe + 3 CO2
Temperature: 20°C – 110°C
Ore types: psy trance, techno, jungle, house, hardstyle
Waste: 0€
The blast furnace is fuming in early November. Initial heat on the floor is provided by newcomers: the night begins with sets from fresh record spinners from Entropy's DJ course. Later the reaction is accelerated with veteran forces by the Entropy all-stars line up.
Proper sweat is reached in the ambient sauna – so bring your own towel.
See you at the base of the furnace.