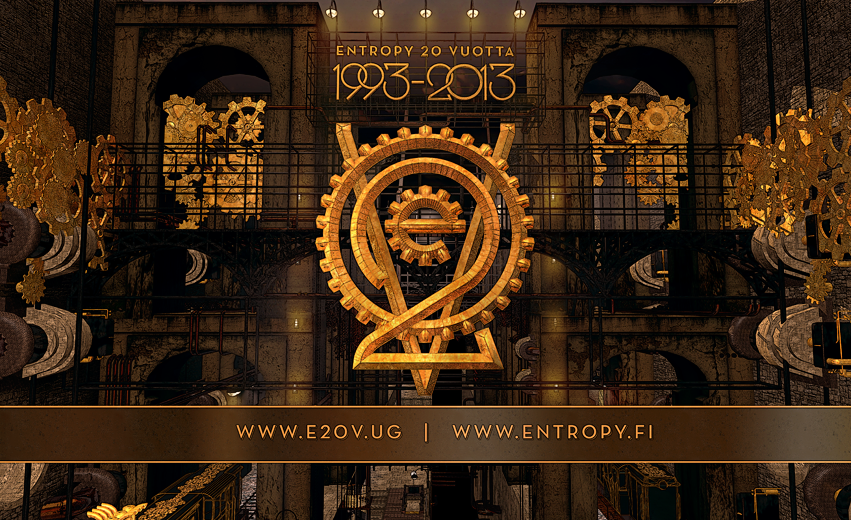 Released: 16.10.2013, 22:00
E20V – 20 Years of Entropy ~
22.11.2013, 22:00
"The Machine ruled the city… But in 1993 the great Entropy began."
Entropy turns 20 – join us for two nights of steamy atmosphere with great music and good friends!
Friday's techno sounds are delivered by Ryan Elliott, originally from the United States and performing in Finland for the first time. Currently living in Berlin, Elliott is a resident at the city's number one techno venue, Berghain. In the other room beats are broken by the British Dom & Roland. Active since 1996, this old school drum'n'bass producer has previously played for instance at Koneisto festival. The night's other acts are Autopsy, Boner M and Roisto, with Entropy's own Emma, Mr. Smooth, Solari and Snapo rounding up the roster. A special live appearance from Phantom in the beginning of the evening.
The party continues on Saturday with German efficiency. Pacou, who has been a part of the Berlin techno scene since 1989, is known from the legendary Tresor club. He has also produced music for almost two decades on Tresor and Cache Records labels. The second room goes deeper with Soukie & Windish behind the decks. This German duo is a regular at Fusion Festival and Bachstelzen arenas and plays in Helsinki for the second time. The Finnish DJ veterans Mr. A and Indigo bring their experience to Saturday night. The lineup is completed by Entropy's Apo, Eerror, Opa and Toolicky.
☆ ☆ ☆ ☆ ☆
Friday 22.11.
• Ryan Elliott (Ostgut Ton, Spectral Sounds, Berghain / Panorama Bar) [US]
• Dom & Roland (DRP) [UK]
• Autopsy (Hyvinkää Jungle Massive)
• Boner M (Pihaus.org, Pennyroyal)
• Roisto (Päämaja)
• Emma & Mr. Smooth (Entropy)
• Solari b2b Snapo (Entropy)
+ special live appearance by Phantom!
☆ ☆ ☆ ☆ ☆
Saturday 23.11.
• Pacou (Tresor, Cache Records) [DE]
• Soukie & Windish (URSL, Bachstelzen) [DE]
• Mr. A (Stroke)
• Indigo (#4B0082)
• Apo (Entropy)
• Eerror (Entropy)
• Opa (Entropy)
• Toolicky (Entropy)
☆ ☆ ☆ ☆ ☆
The event's website offers artist biographies, links to mixsets, Entropy's history and more – new content added as the event gets nearer!
☆ ☆ ☆ ☆ ☆
E20V – 20 YEARS OF ENTROPY
22.-23.11.2013 | Ääniwalli
(Pälkäneentie 13, Helsinki)
Tickets: 15 euros per night from the door (cash only). A limited number of presale tickets available from Tiketti:
• One-day tickets 15 euros
• Two-day tickets 25 euros
Optional dresscode: Steampunk
Facebook event: https://www.facebook.com/events/192441710939305/
☆ ☆ ☆ ☆ ☆
Boing! Boom! Tschak!