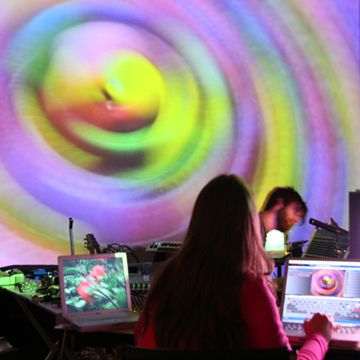 Released: 18.9.2013, 17:00
VJ Workshop in October ~
10 - 24.10.2013
The use of video projectors and LED/LCD screens has been dramatically increasing in a variety of live settings from underground nightclubs to theater stages, from catwalks to Olympic ceremonies. This in turn has raised the demand for Video Jockeys (VJs): video artists who can adapt their production to unique live situations. Less than a decade ago, VJing was an expensive hobby for just a handful of people, but has today become very accessible thanks to the increased performance and diversified A/V features of personal computers.
Entropy organizes a VJ workshop this Fall for anyone interested in learning more about VJing. The workshop starts with a lecture series that provides a general introduction to the basics of VJing, followed by a number of established Finnish VJs presenting and discussing their distinctive style and methods of working. These presentations will also introduce some popular VJ software such as Resolume and VDMX.
The attendees then have the possibility to work on their own VJ shows, receiving mentoring from the workshop organizers.
The goal of this approach is to provide the attendees with an overview on the variety of VJing styles and encourage them to find out the best ways of working for them and their own style.
Welcome!
Workshop information
Dates: Thursdays 10.10., 17.10. and 24.10.2013, 17:00–21:00
Venue: Aalto Design Factory (Studio), Betonimiehenkuja 5C, 02150 Espoo
Cost: Free
Prerequisites: None!
Any further questions? Please contact Olli-Pekka Lehto: oplehto@iki.fi
Lecturer Bios
OP & Teemu K / Lumiere Bros.
Lumiere Bros VJs, formed in 2001, is one of the longest-running VJ crews in Finland. They have done visuals for countless underground parties, legendary clubs (404, Renegade, Reiv, Pussy), major festivals and one-off events (Flow, Laserpoint, House Nation, Raumanmeren Juhannus), product promotions, corporate VIP events and fashion shows.
Teemu Karjalainen / Wavesum
As founder of Wavesum and visualist in Khroma, Teemu knows a thing or two about making visuals understand music. Their AI-powered audio to MIDI clock converter tool, 'Waveclock' has been critically acclaimed and recently integrated as a built-in feature in VDMX.
The workshop is centered around music mapping in Modul8 environment.
Julius Verne
Julius "Verne" Tuomisto is a versatile technology and media professional who regularly VJ's for Phantom. Using Z Vector, the software his company Delicode Ltd produces, Julius has performed at events such as Live Performers Meeting, SXSW, Flow Festival, Eurosonic, Assembly and most recently Electric Picnic. Z Vector is the world's first professional VJ and visualization tool designed for depth sensors such as the Microsoft Kinect or the PrimeSense Carmine. The software is now in a free and open beta phase.
http://juliusverne.com
http://www.z-vector.com
http://www.youtube.com/watch?v=HFpou6izBQg
Antti Hietaniemi / Beige/Harmaa VJ
VJ-duo Beige/Harmaa (est. 2006) maintain a business-grade quality in live improvisation of generative audio-reactive visualizations delivery. Contemporary electronic music has been the main focus since the beginning and B/H works with the venues to create fresh solutions of abstract aesthetics. Hundreds of event-specific productions over the years for visiting artists, for VJ Finland community and Finnish electronic music festivals, underground venues and gigs abroad have established a solid reputation.
http://www.beigeharmaa.com
http://www.youtube.com/beigeharmaa
Juha Forsander / DJ Indigo
Juha Forsander, also known as DJ Indigo, has been an influential character in Finnish rave scene since the mid 90's. Even though he has been making visuals only a few years now, his visual sets have been displayed in numerous events, clubs and underground techno parties.
For now, Indigo doesn't define himself as a VJ, but rather as a visual artist. Since he started making background video clips for his own DJ sets and wanted to leave space for the DJing, he found himself developing a cinematic approach to his visuals. Indigo produces all his visual material from his own footage, mostly photographed and recorded with a camcorder, and concentrates on the material itself, trying to make it look interesting and hypnotic without using extra layers or effects when performing.
At this VJ Workshop, Indigo presents his video material and explains how the material was made, and gives some advice and inspiration on how to produce your own video footage to make your VJ sets look unique and personal.