Released: 15.4.2014, 22:00
Yökylä w/ Feingefühl ~
9.5.2014, 22:00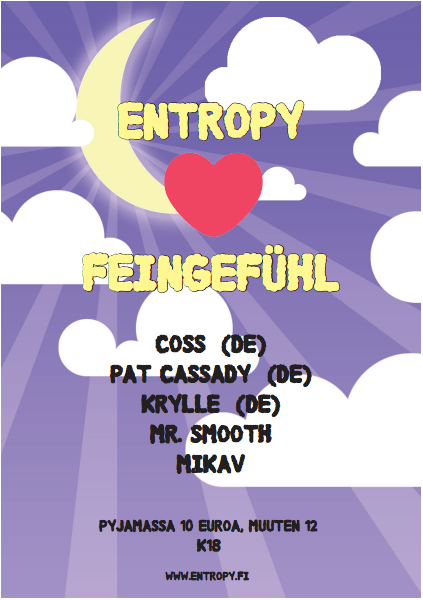 Entropy presents: YÖKYLÄ w/ Feingefühl
Entropy welcomes our old and new friends to a sleepover party! Wear your finest pajamas, grab your teddybear and/or down pillow and join us on Friday 9th of May starting from 23-. There will be some outstanding house music played loud until morning.
On door the ticket price is 12e and 10e for theme dressers. Door service is included.
Age limit: 18
* * *
PAT CASSADY (Feingefühl) (BER)
Pat Cassady likes to combine massive disco and house beats to deeper than deep melodies. As he delved deeper into electronic music, he played at open air festivals in and around Berlin and in local clubs like Kater Holzig, Ritter Butzke, Tresor, Maria, Chalet, M.I.K.Z. and many others. Sharing a passion for house, guitar and jazz music, he began to produce his own tracks in 2010.
He is a member of the "Hätt' ich mal lieber getanzt" Crew and plays and produces under pseudonyms like "Zauberlinden" (Deep House), "Extravaganza" (Tech House), "Pa Ne" (Techno), "Miami Nice" (House/Garage), "Sin & Sinewaves" (House) and "Trés Cliché" (Electronica).
http://www.mixcloud.com/PatCassady/pat-cassady-feel-festival-2013-berlin-de/
http://soundcloud.com/patcassady/lieber-getanzt-podcast-5
* * *
COSS (Feingefühl) (BER)
While Coss may be a young face in the canon that is Berlin nightlife, his productions embodies a quality pre-dating that of modern culture. He likes to craft music that blends dance floor sensibility and folk nostalgia. His DJ sets are warm and create an atmosphere that is both intense and flirtatious – variing from deep and hypnotic to mind opening.
http://soundcloud.com/coss/2013-08-30-klangbiotop-about-blank
http://soundcloud.com/coss/kater-holzig-september-2012
* * *
KRYLLE (Feingefühl) (BER)
Schnell faszinierte er sich für die schier unglaubliche Vielfalt der elektronischen Berliner Feierszene und begann recht schnell sich hinterm DJ Pult zu betätigen. Musikalisch wurde Krylle am meinsten vom Golden Gate (Berlin) – und seinen Lokalmatadoren wie bspw. Turmspringer oder Kotelett & Zadak geprägt. Seit 2010 ist Krylle in den Berliner Clubs & Bars als DJ unterwegs.
Mittlerweile setzt er sich fleißig mit dem Thema produzieren auseinander. Wir können gespannt sein! Die ersten greifbaren Ergebnisse sind nur noch eine Frage der Zeit.
http://soundcloud.com/krylle/cold-as-ice
* * *
MR. SMOOTH (Entropy)
Mr. Smooth has gone onto becoming one of the most exciting talents to emerge from the electronic music scene in Helsinki. For 15 years he's been involved in organizing Entropy events, and during the last 10 years he's also taken turntables by storm. His creative juices have been flowing from click house to dub techno and more banging but equally deep dancefloor techno.
* * *
MIKAV (Entropy)
Having shown a lot of promise as a club DJ and a party organizer with both Entropy and on his own, MikaV is a newcomer who has all intentions to shake things up in Helsinki. He loves to geek out on technicalities of mixing and turntablism with urban genres, but is slowly being succumbed to the deep, moody sounds of house music.
*
VJ Artists
Re-Strike
Folded Visuals
VJ Indigo