Cubensis
(Lakinlaskijaiset '96)
30.9.1996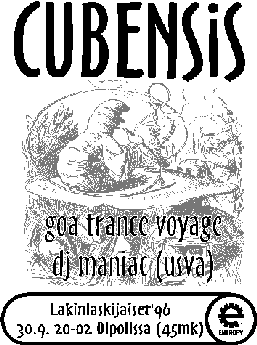 Cubensis was Entropy's independent project within TKY's big Lakinlaskijaiset '96 party. We were given free rein to do whatever we wanted - well, as long as the budget stayed decent - so after some deliberation we decided to do have a goa trance party. We booked DJ Maniac as the main star and prepared to fill the place with UV light and Indian fabric (thanks to Indian Bazaar for lending it!)
But the day before the party, one of our members went to an underground party and heard the Hungarian father-son duo Massturbina playing. After some phone calls it was decided that we absolutely must get these people to play in Cubensis. It required a lot of hard work to book them, since while they would have been happy to come, the airline MALEV wasn't quite so happy about it. But eventually, three hours before the start of the party, we managed it and the team or Abernáthy & Son arrived.
It is hard to describe Massturbina's music to one who hasn't heard it. Basically, they start with a single theme and then keep changing it and changing it until, half an hour later, it's something entirely different. But what makes them truly astonishing is that they play entirely live, mixed and creating everything in realtime. And it's quite a sight to watch too: the elder Abernáthy hovering over incredibly complex home-made equipment, long grey beard bouncing in tune to the music, as the son tweaks and adjusts the instruments at the same time.
There were well over 2000 people at the party, most of them devout techno-haters, but probably half those people wandered, at one time or another, into the Cubensis room and it stayed packed all night long. The crowd went absolutely nuts during Massturbina's set, a heaving throng of humanity (mostly in overalls) dancing in ecstasy. Due to Dipoli's over-eager and over-automated air conditioning the fog machine worked poorly (the fog was just sucked out of the room!) but this didn't seem to hurt one bit.
In the end, it turned out that our original fears of the AC/DC-listening crowds not being able to appreciate the brilliance of someone like Massturbina were unjustified, and Cubensis was a highly successful event. The only problem is that we'll have to wait for next year to do it again...