EVENT INFO
ENTROPY 25 YEARS
Location: Cirko, Kaasutehtaankatu 1, 00540 Helsinki
Time: Sat 24.11.2018 from 21.00–07.00
Tickets: 25€ at the door, cash only or pre-door from Holvi
Cash only
BYOB
---
LINEUP
Roger Gerressen (NL)
Anselm (DE)
Abstract Elements (RUS)
Chris Ferreira (BE)
Antti Rasi
Juurisähkö
Eikai
Mathilda
Eerror
OutOu
Leona
Prokres
Heikki Tapani & Kotiehtoo
tsydem
Mr. Daddy
eltron
Visuals by
Indigo
Folded Visuals
SSuvereeni
Äärivälke
Inana
---
ARTIST BIOS
Roger Gerressen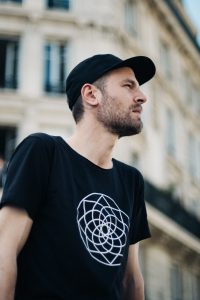 Born in Arnhem (the Netherlands), raised on early 90's hiphop in Nijmegen. As a kid, always drawn to making mixtapes and fiddling around with the old records in the attic, but never realizing he'd be ending up creating music and playing records. His passion for movies and hiphop kept him occupied.
It took a giant (first) rave on his 18th birthday to see the real potential of house music and his objective was clear. In the years following he got the chance to warm up crowds on a regular basis at the legendary Planet Rose clubnights, which made his hometown Nijmegen an excellent place to develop his skills as a warm up DJ and to obtain a broad taste in music. The Dutch town always had a strong history in electronic music, but remained small enough not to be influenced by trends or hypes: a perfect spot to create your own sound and identity, playing alongside the greats.
After his first solo releases on the local Wolfskuil Records he co-founded ESHU (and ESHU Records) in 2011. Recognision came after a string of well received solo releases on Fear Of Flying Records (and sub-label SuddenDrop), his many collaborations with Ivano Tetelepta and numerous other collabs (like Dilated Pupils, ARC# and Novio Dub Tribe). A few years down the line it was time for a new direction which resulted in parting ways with ESHU to start his own label OGUN Records and a few monikers (like the recent Monoaware and less recently Gasometric Run) to provide him with the creative freedom he was looking for. Since he joined Paris based Yoyaku (label/store/distribution) he had the chance to release music on a few of the recordstore's in-house labels like Joule Imprint, Aku and Tartouffe and on the renowned label Sushitech. With their support, he set up two more labels to meet his output; Irenic Records and Autodidact Records.
Links: Soundcloud | Facebook

Chris Ferreira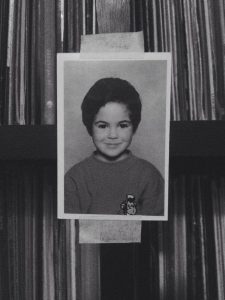 Chris Ferreira is so much more than a resident at C12 and Deep In House. A musicologist, sound engineer, record collector and (of course) DJ, his exploratory approach to music knows no bounds. Equally inspired by ambient, jazz, house and synth-pop, as well as any other experimental genre you might name, Chris Ferreira is not a man who cares for labels. Instead, all that this virtuoso artist really cares about is dedicating his life to sharing the music he loves.
Links: Soundcloud

Anselm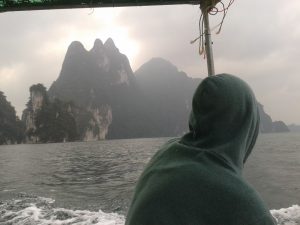 Anselm started djing in 2012 in Frankfurt a.M. / Germany. Soon he became a resident of Tanzhaus West Club and member of a party series called Void two years later where he played alongside artists like Rodhad, Oscar Mulero, Dadub, Sigha, Sleeparchive and many more. He launched his label Unequal Records in 2016 with some solo EPs and moved to Berlin. Influenced by different subgenres of electronic music his sets can be described as a mixture of various styles with focus on tripped out sounds and punchy rave techno. He played in well known clubs like Robert Johnson, Grelle Forelle and Tresor.
Links: Resident Advisor

Abstract Elements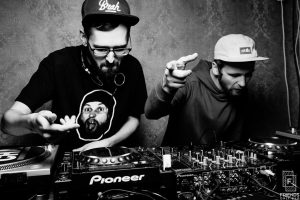 Links: Discogs

Antti Rasi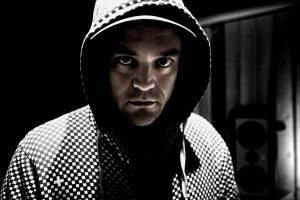 I used to have a biography filled with witty remarks about the clichés often used in these. I think I've grown out of that – like I've grown out of self-promoting and marketing. I also got bored of pretending that somebody else writes these biographies for me. I could come up with a long list of internationally acclaimed DJs I've shared the stage with, all the clubs I've played in and all the instruments I've touched since I learned to walk but I cant's see the point of doing so. Not too sure if it tells too much about the music I make and play anyways.
Since electronic music scene started to be more about the hype than the music itself I found myself more and more locked in to the realm of my studio. I've spent my energy on making music rather than sharing my life in the social media. The music I create and play varies around different sub genres of house and I guess techno as well to some extent. The BPM is around 120, it grooves and hopefully takes you to another place; at least for a while.
Links: anttirasi.com

Juurisähkö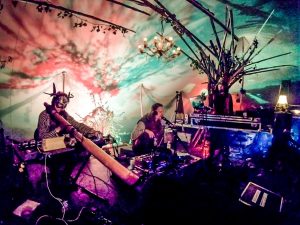 Juurisähkö unifies ancient roots with modern live electronics, forming aural landscapes that are brought to life through deep throat singing, mantras, didgeridoo, a variety of drums, percussions and rattles, and mesmerizing looping combined with twisted audio warping.
Eikai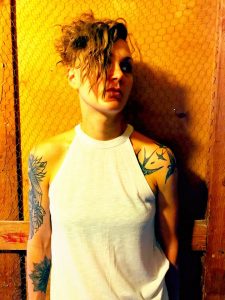 Dark and hypnotic landscapes, trippy and atmospheric melodies, loud main room inspired sounds and hard hitting beats are the ingredients Eikai uses in perfect proportions to take her crowd to a unique journey that is out of this world. Helsinki based Eikai aka Elisa Kaivanto has been an active follower of the domestic and international techno scenes since early 2000's and a DJ since 2013. She has mainly played at underground events in Helsinki and Tampere (organized e.g. by SWÄG, HYTKY, Entropy, Disko Tekno Kollektiv, Loukku) varying from dubby warm-up vibes to harder early-morning sets. Recently she has been focusing on producing her own music so you might hear some of her production at the E25V party.
How I got involved with Entropy: "I have been a huge admirer of the underground techno culture since I started going to rave parties in the beginning of 2003. Entropy's UV/UG 2004 New Year's party at Telakka Studios is one of those parties to remember. It was my first time in an event organized by Entropy and I was totally blown away by it, it was so great. Since then Entropy has represented the most remarkable underground techno organization for me in Helsinki and in the whole Finland, alongside with HYTKY. I have previously played at some of Entropy's events and made a podcast for Sugarcubes Podcast series, thanks to those awesome people I have met at Entropy'a activities. I am honoured and delighted to get to contribute to Entropy's 25 years celebration!"
Mathilda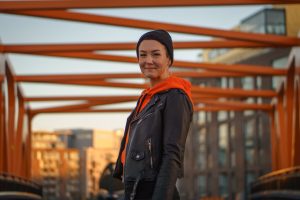 Mathilda got a kick-off into DJ'ing on the Entropy's DJ course in spring -17. After that she´s been playing in UG, art and club events. She plays music from various genres matching the place and time, with a goal to communicate the warm feelings she gets from the music. She also wants to proceed the safe space-policies in electronic music so that everyone from artists to ravers could feel themselves more comfortable in our common events.
Links: Soundcloud | Facebook | Valomerkki | Photo: Vladyslav Gutsul

Eerror b2b Prokres
Good boys, bad boys. I don't know, which one they are or what they're gonna do, but they will come for you.
Every person has two sides at least – most of us a plethora of them. Some are soft, some are dark, some you will see and some stay as a mystery. When it comes to DJing, Eerror and Prokres have plenty of sides: from DnB through house to techno. These golden boys of Entropy have played in our parties since 2012, but a B2B set from them is always a rare event not to be missed.
Some people change and transform and grow out of their respective genres. But not these boys. They come in all sizes and shapes, like the emotions in their music. But as you can't feel everything at the same time, you can't play everything in the same set.
And there is no sunshine and happiness in November.
There is only the raw, earthy power of death and decay waiting to be released.
There is only techno.
Links: Eerror Soundcloud | Prokres Soundcloud

OutOu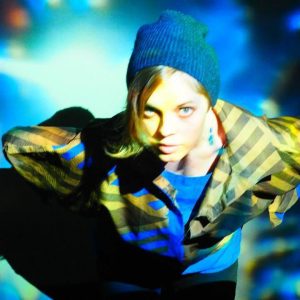 Childhood school discos and teenager years in the underground scene of Helsinki gave OutOu a spark of electronic music and dancing for a lifetime. After spending several years in Berlin she wanted to jump from the dance floor behind the decks as well. Her goal is to create a laser-like connection with the listeners and make everyone feel the empowering, primitive force of the sound and the movement.
Whether OutOu serves you house, techno or more down tempo tunes, it comes always with growing intensity and a motto: "Just follow the bass…"
OutOu has been part of Entropy through DJ'ing and event organizing since spring 2017 after she returned to Finland from Berlin.
Links: Soundcloud

Leona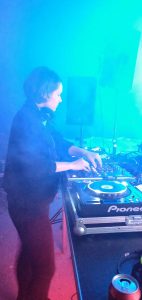 "Leona plays funky and playful deep house with a twist of electro and future house. Her subtle musical impressions create a space where the bass goes straight into your subconscious.
Links: Soundcloud

Heikki Tapani & Kotiehtoo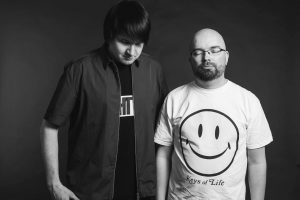 Two DJs united in their love for deep electronic music with melodramatic melodies, vocals and all things leftfield.
Links: Soundcloud | Facebook

tsydem
Links: Soundcloud

Mr Daddy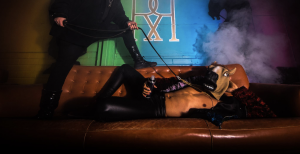 Mr Daddy in da house.
Deep, penetrative bass lines. Exciting melodies and hypnotic pounding.
Surrender to the groove and come play with Mr Daddy.
Links: Mixcloud

eltron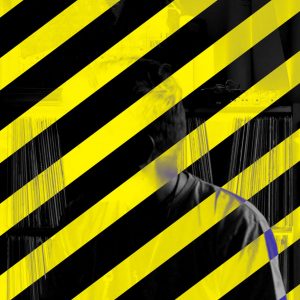 eltron started out DJ'ing in 2003 playing corny thrift shop finds at random student parties. His journey into the electronic music scene has been a backward trip through the golden age of grime and dubstep, and for this set he will be looking back at the dark weighty sounds and guilty-pleasure middle wobble gems from the 00's, maybe sneaking in the odd new eyeball shaker or two. Expect skipping needles and that distinct simultaneous feeling of discomfort and euphoria.
Links: Mixcloud
Indigo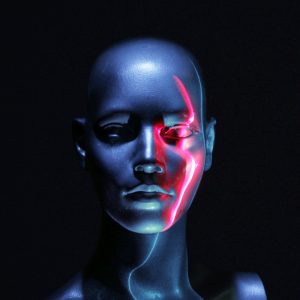 Indigo is a Helsinki-based multi-talent – known as a VJ, DJ, and an electronic music producer, among other things. Indigo began DJ'ing far before his visual endeavours – the VJ activity began years later when he started making visuals for his own DJ gigs. At that moment the VJ culture was on the rise and Indigo soon begun to create visuals for numerous underground events, clubs and art events.
His long-lasting collaboration with Entropy started from Smultron outdoor raves in 1998, where Indigo played his first DJ sets. His first major VJ gig was at Entropy 20 years event in Ääniwalli five years ago.
Indigo seems to be in his element creating visuals to electronic music events. He can easily visualise himself in the middle of the dance floor experiencing the music, crowd, lights, and visuals around him. Every event and moment is unique and there is no existing formula for a successful set. Indigo relies on intuition and flown power: each set is improvised and advances with the surrounding energies.
Links: Facebook

Folded Visuals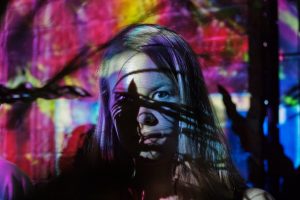 Folded's dreamy visuals take the viewer to a secret garden after dark.
Visions of lakes, ferns and soft moss blend into mysterious signals and a splash of circuit.
Whispers and faraway wanders, restless dreams of a long lost drone.
Merle Karp is a regular VJ in the Helsinki underground and club scene.
Links: Facebook

VJ SSuvereeni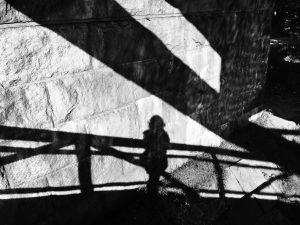 VJ SSuvereeni is best known for her stunning video installations during musical events across genres. She has also curated various clubs and festivals all over Finland.
Her aesthetic is characterized by psychedelic images, sensory hyperstimulation and a profound connection with nature.
Currently SSuvereeni is mainly working with AVARUUSASEMA collective, but she is also occasionally participating in events by THRDEYEVSN.
Links: suvereeni.us

VJ Äärivälke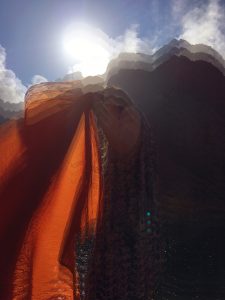 Infinitely searching and shifting shapes. Weaving webs of captured light, in E25V accompanying Antti Rasi. Becoming one.
Links: Instagram

VJ Inana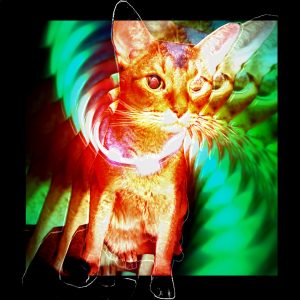 Inana presents fragments of nature, from Norwegian weed to other natural creations, seasoned with a couple of pussies and a pinch of acid.
SPONSORS