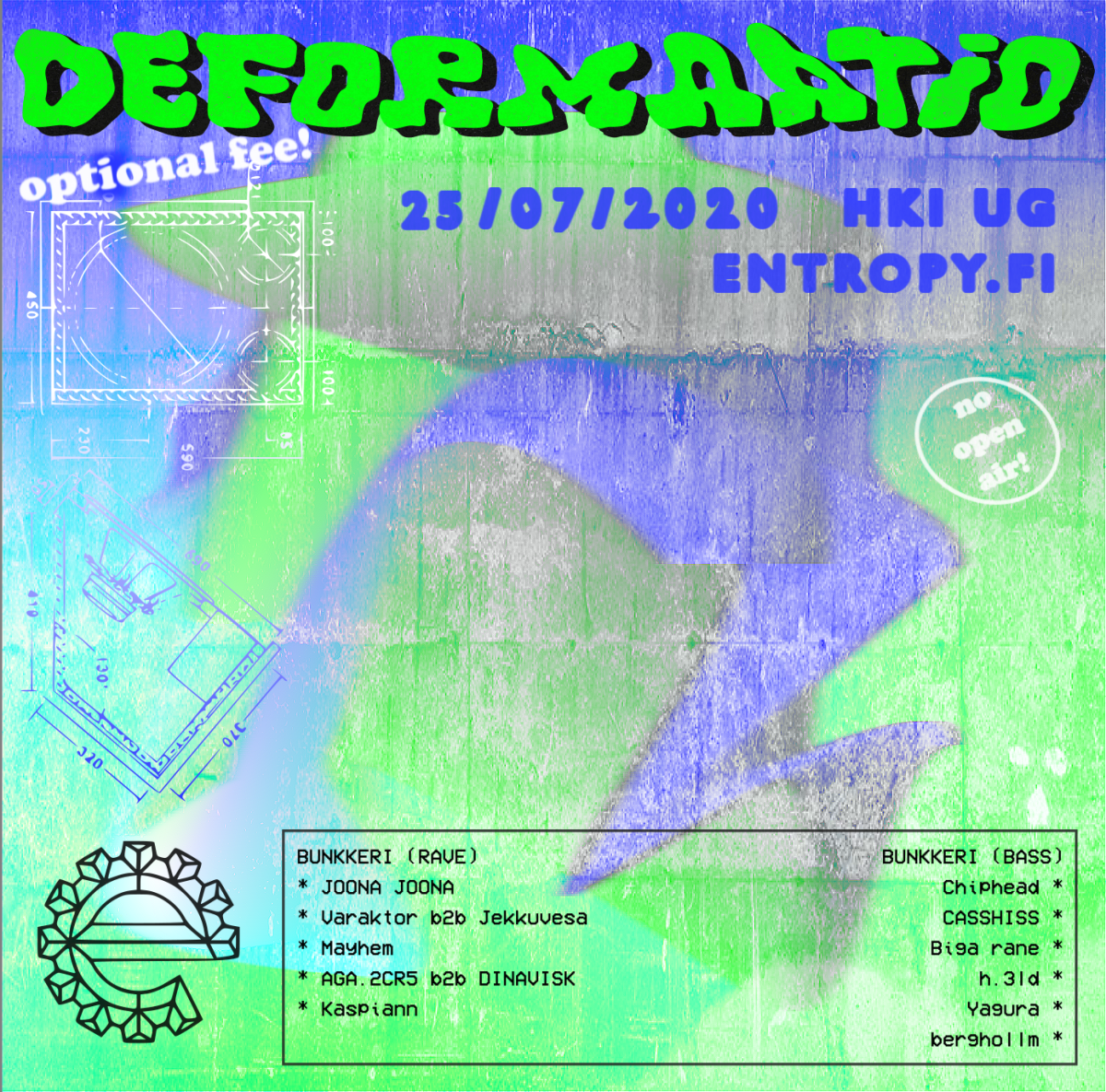 Released: 10.7.2020, 08:20
Deformation ~
25.7.2020, 22:00
Deformation. Seismic bass, murky forest and the chill of the bunker.
Location @Viikin Bunkkerit.
Optional fee. BYOB.
Line-up:
# Rave Stage -- TECHNO, ELECTRO, INDUSTRIAL, ACID, RAVE
22:00-23:00 JOONA JOONA
23:00-01:00 Varaktor brb Jekkuvesa
01:00-03:00 Mayhem
03:00-05:00 aga.2cr5 b:2b DINAVISK
05:00-07:00 Kaspiann
# Bass Stage -- JUNGLE , DNB, NEUROFUNK, LIQUID, JUKE, FOOTWORK, UK GARAGE
22.00-23.00 Chiphead
23.00-00.30 CASSHISS
00.30-02.00 Biga Rane
02.00-03.30 h.3ld
03.30-05.00 Yagura
05.00-07.00 berghollm
Venue is Viikki bunkers. Coordinates 60.220388, 25.042595 (Google Maps).
Bunkers are located on Viikki rocks next to field. Nearest bus stop is called Myllärintie. Siilitie 13 also close-ish by. From the traffic circle between Viikintie and Viilarintie, continue few meters to the west (Viikki direction). There on the right hand side goes a trail to the woods that lead straight to the venue.
There is no toilet on the venue. Remember to care for the environment and bring papers etc to trash bin. Let's also stay away from the road because traffic. We ask you not to smoke inside the bunkers/stages, and take no photos inside.
Kiosk will serve refreshments and small snacks. Cash only so bringing some is recommended. Event is B.Y.O.B.
Our event follows the principle for safer spaces. Don't make unnecessary assumptions regarding other peoples sexuality, gender, religion, skin color, nationality etc. If you're exposed to unreasonable behavior during our event: alert one of the security guards or one of the organizers.
The corona pandemic is still ongoing, even though the situation is quietening down. Don't participate in the event if you are experiencing flu-like symptoms. We'll be following the contagion statistics and its development and act accordingly to the information. Both stages will be situated in spaces comparable to indoors, so we ask you yourselves to make the judgement regarding if you can come to our event or not.
No FB event.
// Strobodan