ASSOCIATION
Entropy ry, founded in 1993, is an electronic music cultural association and one of the AYY (Student Union of Aalto University) cultural associations. The purpose of the association is to maintain and advance electronic music culture and related activities among the students of Aalto University and to unite people interested in electronic music.
This in mind Entropy organizes electronic music events, various courses and workshops (such as the popular "Introduction to DJing" courses) and excursions to events in Finland and abroad. Entropy's activities are member-driven: all the events and activities are initiated, planned and carried out by the members. Anyone can join the association and the membership fee has always been zero euro. Gratis and libre!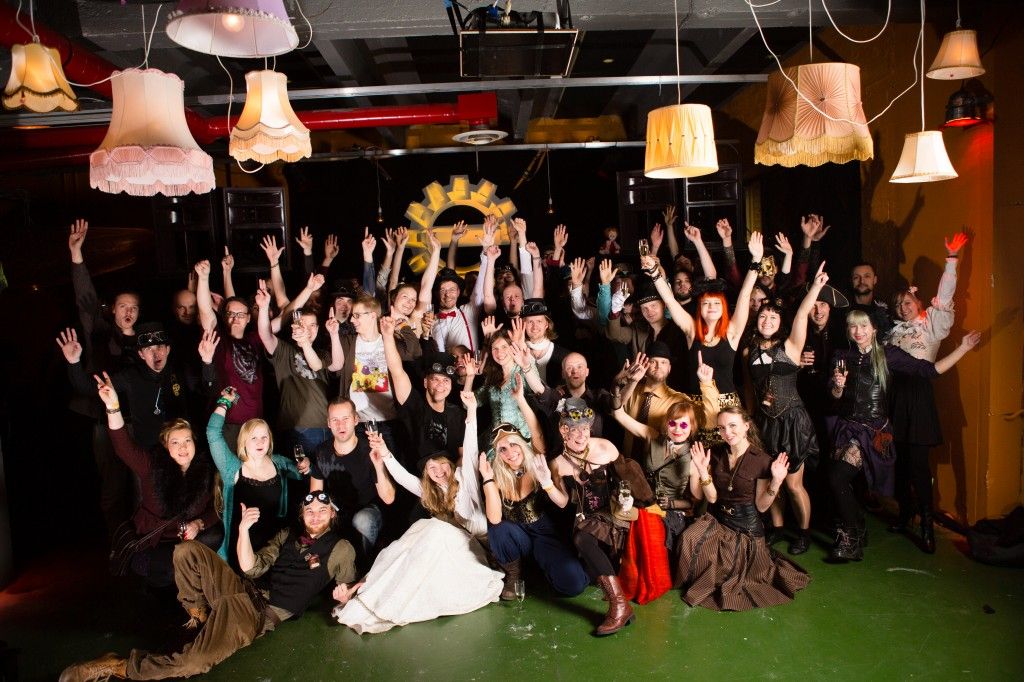 Former and current entropians at the 20th anniversary party in 2013.
Board
Entropy's board acts as the official body in organizational affairs. The board is elected annually in November and begins its session in January. The board can best be reached by email at hallitus
entropy.fi.
Board 2023
| | |
| --- | --- |
| Chairperson | Mikael Slotboom |
| Vice chairperson | Mikael Mäntysalo |
| Secretary | Minerva Mänttäri |
| Treasurer | Nicolas Guinoiseau |
| Communications director | Mădălina Năstasă |
| Additional board members | Vassi Parland, Olaus Lintinen, Niko Nästi, Daniele Del Sale & Tatu Peltola |
Officials 2023
| | |
| --- | --- |
| Technical director | Vesa Korhonen |
| Technical team | Luca Scotton, Daniele Del Sale, Tatu Peltola & Olaus Lintinen |
| Rental director | Niko Nästi |
| Clubroom director | Ilya Nekrasov |
| Anti-harrasment enforcers | Roosa Kallionpää, Luca Scotton, Daniele Del Sale |
| Chief digital officer | Harri Häivälä |
| Graphic design | Giolio Marcon |
| Decoration, visuals and photography director | Pihla Törrönen |
Board 2022
| | |
| --- | --- |
| Chairperson | Olaus Lintinen |
| Vice chairperson | Tatu Peltola |
| Secretary | Mikko Paarma |
| Treasurer | Vesa Korhonen |
| Communications director | Roosa Kallionpää |
| Additional board members | Vilppu Pekkanen & Mădălina Năstasă |
Officials 2022
| | |
| --- | --- |
| Technical director | Vilppu Pekkanen |
| Electronics wizard | Tatu Peltola |
| Communication channel administrator | Mikko Paarma |
| Rental directors | Joona Wetterstrand & Daniele Del Sale |
| Clubroom director | Giulio Marcon |
| Anti-harrasment enforcers | Roosa Kallionpää & Daniel Ahrari |
| Chief digital officer | Harri Häivälä |
| Recruitment officials | Mădălina Năstasă & Luca Scotton |
| Graphic design | Luca Scotton |
Board 2021
| | |
| --- | --- |
| Chairperson | Tatu Peltola |
| Vice chairperson | Olaus Lintinen |
| Secretary | Joona Wetterstrand |
| Treasurer | Vesa Korhonen |
| Communications director | Jacob Söderström |
| Technical and rentals director | Vilppu Pekkanen |
Board 2020
| | |
| --- | --- |
| Chairperson | Hari Häivälä |
| Vice chairperson | Mathilda Soukka |
| Secretary | Tatu Peltola |
| Treasurer | Vesa Korhonen |
| Communications director | Joona Wetterstrand |
| Technical and rentals director | Uula Toikka |
Board 2019
| | |
| --- | --- |
| Chairperson | Katariina Helin |
| Vice chairperson | Harri Häivälä |
| Secretary | Tatu Peltola |
| Treasurer | Vesa Korhonen |
| Communications director | Olaus Lintinen |
| International guy / Global liaison | Nicolas Guinoiseau |
| Technical and rentals director | Uula Toikka |
Board 2018
| | |
| --- | --- |
| Chairperson | Essi Laurila |
| Vice chairperson | Vilppu Pekkanen |
| Secretary | Iiro Tähkä |
| Treasurer | Niklas Strengell |
| Communications director | Mathilda Soukka |
| International guy / Global liaison | Nicolas Guinoiseau |
| Technical director | Juho Luoto |
Board 2017
| | |
| --- | --- |
| Chairperson | Niklas Strengell |
| Vice chairperson | Janne Karjalainen |
| Secretary | Iiro Tähkä |
| Treasurer | Eero Pehkonen |
| Communications manager | Kasperi Koskelo |
| Stakeholder coordinator | Essi Laurila |
---